Meghan is one of our boot campers...she has a particular style you have to read to believe. Meghan has been attending South Shore Fit Body Boot Camp since January of 2017, and despite her 'wit' about boot camp sessions, she loves how it is helping her build strength and functional movement. More importantly though she is opening up about her own personal struggles with MS and what I truly appreciate is her willingness to overcome adversity and recognize that it is up to her to control her destiny. Enjoy! ~Coach Leon
⚠️ Warning - Adult Language in Use ⚠️
I went to the gym this week for the first time in almost a month. I don't know if this more of a punchline or a confession. Either way…I went to the gym today (to say hi to friends…NOT to workout) I didn't know it was possible to miss getting your ass kicked, and yet, here I am, forlorn and totally crestfallen because it's been 4 weeks since my last workout.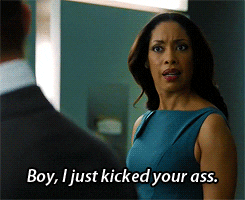 *OK, before I go any further, I KNOW my absence looks suspect, as it perfectly coincides with the departure of two beloved trainers. But, I swear to G-Oh-Single-D, my failure to appear is completely unrelated to that…just piss poor cosmic timing.
So where the hell have I been? I'm not going to sugar coat it. I'm just going to come right out and tell you that March has been a real big bag of d!@&s. I'm not even talking about the early spring Nor'easters. I'm talking about all the other NON-weather shit storms I've been weathering.
Shit storm #1: Sock-Apocalypse
Our dog, Mojo, ate a sock. Actually, if I'm being honest, Mojo has eaten around 100 socks and pairs of undies. 99 times, he's been able to expel the garment one way or another. Unfortunately, this last time, the sock got wound around his intestines and required emergency surgery to remove it. In other words, Mojo has 99 problems and digestion IS one. Following the surgery, Mojo's puppy penis (aka Mojo's mojo) got swollen and infected. In addition to more visits to the dog ER, a penile ultrasound, three rounds of antibiotics, tranquilizers for him (and maybe for me), I was then told I had to hold warm compresses on my dog's junk THREE times a day. Do you ever look at your life and wonder, "WHY THE HELL DOES GOD HATE ME???" No? Well, get up close and personal with your doggie's goodie bag, a few times a day for a GD week, and you just might start to question life.
Shit Storm #2: Clot-tastrophe.
A few weeks ago, right around the time I stopped going to class, I spent a long Friday night in the ER. After a delightful smorgasbord of super fun tests, I was diagnosed with not only "clusters of clots" in my legs, but also a pulmonary embolism. That's a fancy way for saying they found a blood clot in my lung.
The 12 year old girl version of Doogie Howser MD put me on blood thinners, signed me up for Medicaid (because I'm the OLDEST 38 year old in the history of the world), changed my name to Ethel, told me, "NO GYM INDEFINITELY", and then she essentially suggested I take up crocheting shawls instead. Why? Because I'm old AF.
I tried telling her that boot camp is my therapy. I pleaded that it's in EVERYONE'S best interest if I can go to the gym, so I don't turn into the Unibomber. But, alas, Dr. Hannah Montana wasn't going for it.
I can handle blood clots and a sock-eating-asshole dog, but NO gym?!?! WHAT THE ACTUAL EFF.
Apparently, somewhere along the line, I pissed off Karma, and she's getting payback. Seriously. This month it feels like the universe left a flaming bag of dog poo on the doorstep of my life, and I can't even burn off my aggression at the gym. Currently, I can't focus on my physical health, so I need to spend that energy tending to my emotional/mental well-being. Over the last 4 weeks, I've been doing things I wouldn't normally "waste" time doing:
* deep breathing
* down time (doing absolutely NOTHING)
* reading
* shutting off the devices
* sleeping (more than 4.5 hours)
* eating healthier
* church/prayer (This isn't something new-I'm a regular church goer. If you've met my children, you understand why)
What I've come to realize this month is that a truly healthy lifestyle intertwines physical well-being with emotional well-being. Prior to Clot-tastrophe, I was ONLY focusing on the physical component. Don't get me wrong, the daily ass-kickings at FBBC did wonders for strength, conditioning, and overall bad-assness, BUT I completely neglected my mental state. I wasn't exactly a basket case, but there were days I had a one way ticket on the Hot Mess Express.
Sound familiar?
Here's the good news: Since making a concerted effort to SLOW DOWN and RELAX, I'm actually mellower, less frustrated, more punctual (weird, right??), and dare I say, saner?? Turns out there really is something to be said for mental health rest days, grown up coloring books, and stopping to smell the roses.
My advice? Start this shit now! Don't wait until an adorable 12 year-old Emergency Room doctor tells you you have a PE (or worse) before you start taking care of your TOTAL self. Go for a walk, spend time reflecting or praying, read an actual book (NOT ON AN E-READER), take a nap. Your mind (and probably your family) will thank you!