Is there such a thing as Healthy Donuts??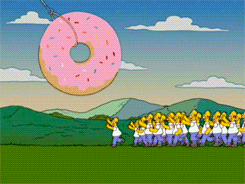 These gorgeous breakfast treats are gluten-free, cane sugar-free and baked! Make them with a Gluten Free / Nut Free Flour and they are nut free to. In moderation, these can make for a good "sweet" treat that serves the body! Plus, there's something so fun and satisfying about taking something that's supposed to be unhealthy and turning it into a wholesome snack.
Real Healthy Basic Donut recipe:
Dry Ingredients
1 1/4 cups Almond Flour (blanched almond flour (or equivalent)) 1/4 tsp Baking Soda
Wet Ingredients
3 tbsps Maple Syrup 3/4 tsp Vanilla Extract (or 1/2 tsp vanilla and 1/4 tsp almond extract) 2 tbsps Coconut Oil (Liquid/Melted) 1 tsp Apple Cider Vinegar 2 Egg ( at room temperature, whites and yolks separated)
Chocolate Glaze
1/2 cup Dark Organic Chocolate (1/2 cup very dark chocolate (73% cocoa)) 1/4 cup Chocolate Protein Powder (unsweetened (or use unsweetened chocolate)) 2 tbsps Coconut Oil (Liquid/Melted)
Directions 1. Preheat oven to 350 degrees F. Generously grease your 6-mold donut pan with coconut oil.
2. Combine the dry ingredients (flour and baking soda) in a medium bowl.
3. Combine the wet ingredients In another medium bowl except egg whites.
4. Mix the wet with dry and set aside
5. Beat the egg whites until firm peaks form. Gently fold the egg whites into the batter.
6. Equally distribute the batter between the 6 donut molds. Smooth out the tops of each donut. Bake for 12-15 minutes until lightly golden
7. Allow the donuts to cool, remove from pan and then chill in the fridge for half an hour.
8. For the Glaze: Fill a medium skillet with a few inches of water and place over medium low heat. Place the glaze ingredients in a small saucepan and put the saucepan inside the skillet. Gently mix the ingredients until fully melted.
9. Pour the melted chocolate into a shallow bowl. Dip each chilled donut in the chocolate, then immediately chill for 30 minutes until the glaze hardens.
Want 41 More Delicious and Fat Burning Recipes? Enter your info below for instant download.